Our stops at the thrift store were a smashing success today! I say "our" because my boys are starting to get into this thrifting thing...they no longer say in Eeyore voices "Bow-ring" when I suggest stopping by my favorite haunts for a quick scour. He, he!!!
Luke found this terrific "spy notebook" for...well, you know...7 yr. old spying adventures...(can't believe he's gonna be 7 yrs. old in just a few weeks!!!) ($0.99)
Luke's spy and discovery book...
Each of these sections are envelopes for your "valuable papers."
Went garage saleing (saling, sailing, sale-ing???) with a friend and scored the larger suitcase ($10) formerly belonging to Mr. Edwin L. Mincher (may he rest in peace). The sellers were like,
"Awww...she's buying Ed's suitcase...he was a good fella!"
I say he had great style, too...the inside is lined with tan & cream herringbone fabric. So old man-ish. So perfect.
The smaller suitcase came from another garage sale on another day...($5).

Both need to be cleaned. I think goo-be-gone might remove Ed's white address labels...I hope!




Brand new Twister game cellophane wrapped and all ($2.49), Five Little Peppers and How They Grew...the boys loved this book and one of them spotted in on the shelf! ($0.99), vintage arithmetic flash cards ($0.49 each) - the boys were practicing with them tonight...but the part I love the most is the picture below.



"Printed With Special Eye-Saving Ink"

Me to my boys, "See, boys! These are secret SPY math cards...SPECIAL INK...it can SAVE things like eyes! Now study, study, study!!! Save the WORLD with ARITHMETIC!"




Oh, the vintage sheets...sigh! "Hello, My name is Kiley and I'm addicted to vintage sheets..."




Gorgeous vintage table cloth...perfect condition! ($3.49)

Not pictured but worth mentioning...rain boots for Ike ($1.99). We've been looking for new ones!!! Also, from garage sales and the thrift store today...FRAMES!!! Working on a project with them! Go here for a sneak peak!!!


I'm linking up here...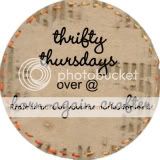 Apron Thrift Girl